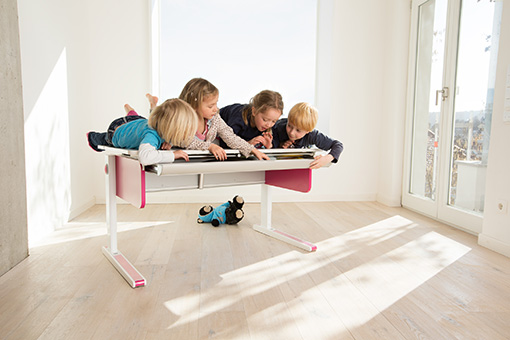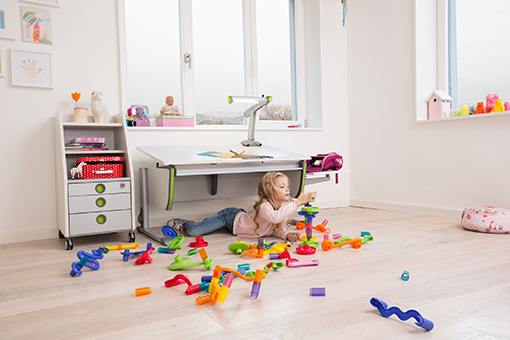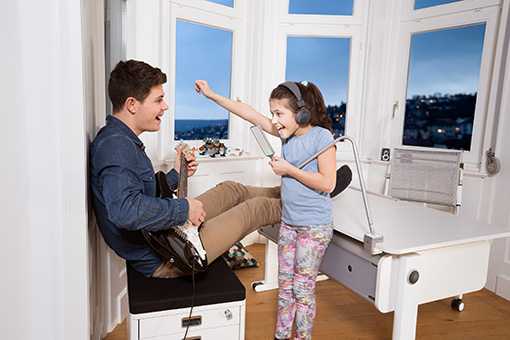 Over 40 and still a multitalent: THE school writing desk by
It can make itself very large or very small, adapt itself flexibly to the needs of the moment, it offers storage space and ample area on which to write, read or paint. It scores heavily with its functionality, it is ergonomic down to the last detail and almost indestructible. The moll school writing  desk is an all-round talent which is designed to keep children company from the very day they start school through to their school-leaving exams and beyond, and in many families, it will be passed on from one generation to the next.
Starting from the children's rooms in Swabia, moll now exports to all corners of the world. All over the globe, this answers the question which parents ask themselves – especially when a child is about to start school: 'What do we expect a school desk to do, for it to fulfil  all our expectations?'
Martin Moll summarises the treasury of experience accumulated by the specialist company moll like this:
"Ergonomics is the number one criterion – after all these are our children, and their development deserves the best support we can give them. In principle, this means designing furniture which can be adapted not only to the actual body size of the child, but also to their individual proportions. In another respect too, size plays an important role, as the space as perceived by a child grows as they grow. That's why for the youngest children a small, easily-managed desk is ideal; documents and small utensils can be accommodated ready for immediate use in the drawers and pull-outs. For older children, the desk is simply enlarged and added to – our system offers numerous possibilities for this purpose".
To encourage a healthy back, the patented desk legs are so conceived that they can be matched exactly to the child's actual body size. In addition, all desk tops can be tilted. The mechanism is easy to operate and allows the tilt to be adjusted to match the current activity. Because for every activity, whether it is writing, reading or painting, there is really only one optimum setting to guarantee a relaxed posture.
Functionality, robustness or durability- alongside these criteria, the childlike charm of the furniture also has an important role to play. After all, the child's first desk of his or her own should be enjoyed and provide space for development.
Our quality is in the detail. Our products are particularly durable because of their high quality manufactured in Germany. We are the leaders in the development of heightadjustable and ergonomic desks, and our innovative designs and clever, well thought-out functions ensure that our programmes are always state-of-the-art in research and technology. Many patents document this attitude: we confront the challenges of the future and develop tomorrow's solutions today.