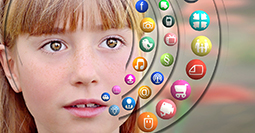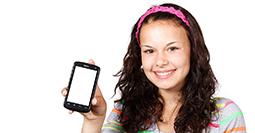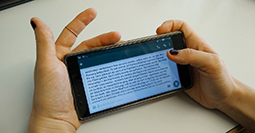 On the trip to school or to work, our cellphone is a companion. Throughout the day, we take it out of our pocket again and again and affectionately swipe its screen to see if any news has come in. It can even be found in bed at night — usually plugged in to recharge, but always there to grab. The phone can also show us that our kids were last on WhatsApp around midnight (and tomorrow is a school day!). Whether a blessing or a curse, it's always good to reexamine it.
It's a proven fact that kids can work a smartphone better than they can tie their shoes. And it's not all that hard to work one anymore. However, the options these devices now offer are not that easy for parents to understand, if they didn't grow up with them. What is the point of restricting TV if the kids can just watch in their room on the cellphone? They merrily cruise the Internet unattended or spend hours texting their "friends" on Facebook.
That would stop immediately, of course, if we had the provider block Internet access. But that would brand the child as an outsider. It counts how many high-speed megs or even gigs the phone can download. A cellphone shows status — not just social media status, but that of your child. It's no longer "clothes make the man (or child)," but, "Show me your phone, and I'll tell you what you're worth." Granted, that's disturbing, but that's how it goes in the schoolyard. And then there's the ability to stalk over the phone, to bully or to watch the latest forbidden feature film — without being screened at the ticket counter.
Anyone who has left the house with children who have forgotten their cellphones knows what happens when parents pull out of the garage unmoved by the hue and cry. There will be yawns, boredom and accusations. No one can survive a ride without "Clash of Clans" — they'll lose important game points, if not friends. The dependency is visible and alarming. But when the kids arrive at Grandma and Grandpa's, if they can teach the old generation all the functions of their newly acquired cellphones, it's a perfect day. The parents sit off to the side munching on some cake — Grandma downloaded the recipe from the Internet! The old recipe book, with the loose, smudged pages is gone. It's not hard to tell that we're in curse territory.
But what about the blessings? Now for the positive aspects. A cellphone is also a phone book. That's right! Now, in the era of extended school hours, constantly changing plans, snow days and car pools, a cellphone often helps save a son or daughter from waiting hours in front of school to be picked up. All it takes is a call.
So the mobile phone provides security in allowing parents to contact their children — and vice versa — at any time. But we often wonder why Junior so often doesn't reach for it, even though he knows there's an emergency and that that's what the phone was bought for. When a daughter has gone off alone in the country on horseback again, it is soothing to know that she can be located by cellphone, once you've convinced her of the risks.
When learning the mysteries of the immune system, an educational video on YouTube can be enlightening. There are free, serious movies on almost any topic, and you don't have to boot up your laptop to watch them. The phone can also be used to settle differences of opinion, such as whether bumblebees have a stinger. It's all cleared up quickly without a trip to the library. This can only be seen as positive. But what's wrong with a trip to the library or discussions that last for a while — maybe even to the next day? The Internet puts a definitive end to that. A blessing and a curse.
In 10 years, this article will look a lot different. There will be no more parents who survived their teen years without a cellphone. On the one hand, there is nostalgia for the days of not being available at all times, when children had to manage their own time without always calling to ask if they could come home late.
But when it's dark, you're at the door of your house and you can't find the keyhole, your smartphone's flashlight app comes in handy!