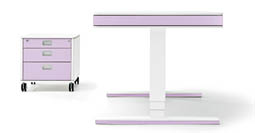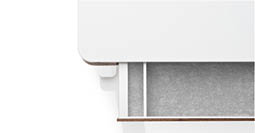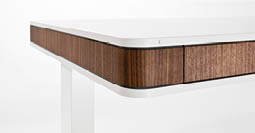 The moll T7 was awarded with the Red Dot, the international distinction for high design quality. Participants from 57 nations had registered about 5,200 products and innovations for the Red Dot Award: Product Design 2016. Only products which set themselves apart considerably through their excellent design receive the sought-after quality seal from the international Red Dot jury.
After the nomination for the German design award the second design honouring for the moll T7.
The moll T7 combines timeless design with variability. It can be integrated into any room — whether a child's bedroom or a living room. Its recipe for success is not just its design, but also its outstanding ergonomic properties.
With 41 experts from all around the world, who are chosen according to strict rules, the Red Dot Award: Product Design guarantees a very high judging competence: Only freelance designers, design professors and specialised journalists – but not designers employed at companies potentially participating – are appointed to the jury.
The independent expert panel assesses each entry strictly and fairly, live and on site, according to criteria such as degree of innovation, formal quality, functionality and ecological compatibility. Professor Dr. Peter Zec, founder and president of the Red Dot Award: "With their performances, the Red Dot winners not only demonstrated an extraordinary design quality, but they also showed that design is an integral part of innovative product solutions."
About the Red Dot Design Award:
In order to appraise the wide scope of design in a professional manner, the Red Dot Design Award is broken down into the three distinct disciplines: the Red Dot Award: Product Design, Red Dot Award: Communication Design and Red Dot Award: Design Concept. The Red Dot Award is organised by the Design Zentrum Nordrhein Westfalen in Essen, Germany. With more than 17,000 entries in 2015 alone, it is one of the largest competitions in the world. It was in 1955 that a jury convened for the first time to assess the best designs of the day. The name and brand of the award were developed in the 1990s by Red Dot CEO, Professor Dr. Peter Zec. Since then the sought-after "Red Dot" is the revered international seal of outstanding design quality. Further information: www.red-dot.org.