moll Cubicmax children mobile container
the XXL alternative to the mobile container Cubic
The larger alternative to Cubic offers an additional drawer and two more tray compartments. Cubicmax also has castors and comes with 8 different color applications for the handles. In addition to more storage space, it also offers the possibility of doing one or two activities while standing.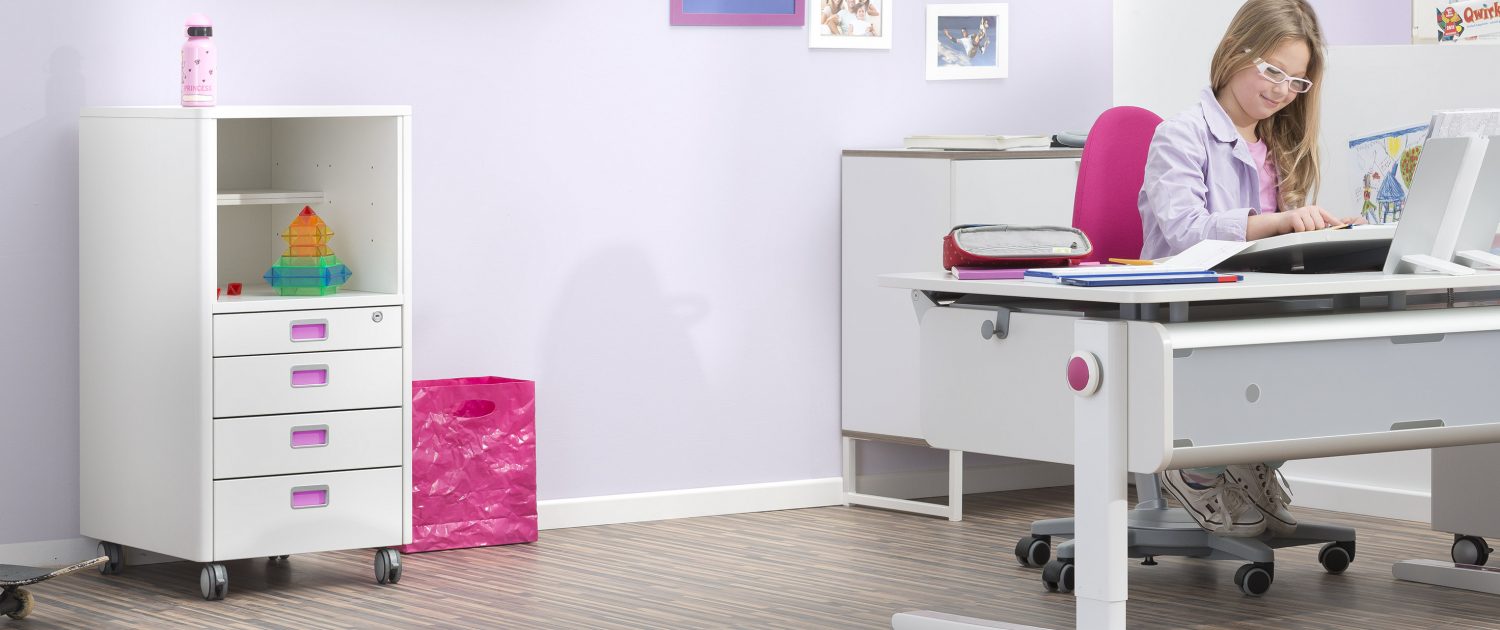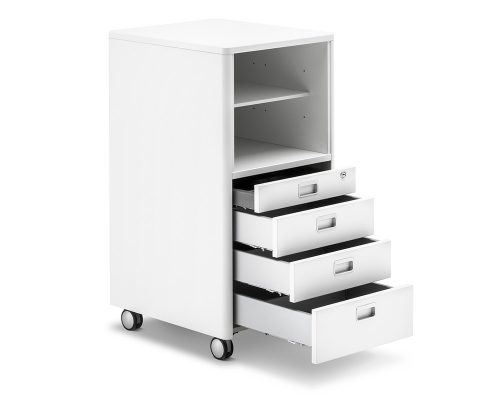 Equipment
The Cubicmax offers 3 drawer elements and a utensil compartment. All drawers are self closing with cross-dividers for formats up to DIN A3. Cubicmax is a mobile container on castors – two castors with brakes.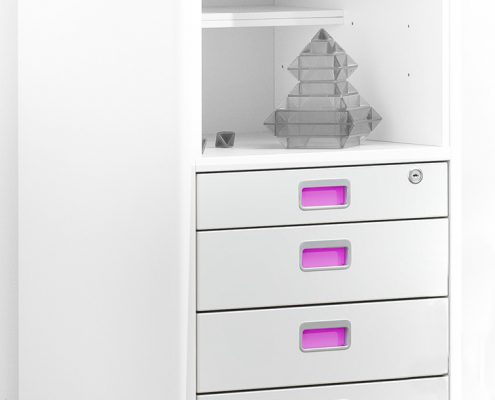 Colors
The mobile container comes with 8 different color applications for the handles. These are easily replaceable.
Container
Cubicmax:
Alternative to Cubic
Width 43 cm
Depth 54 cm
Height 88 cm
Weight 45,5 kg
Particularities:
Provides an additional drawer as well as a shelf attachment
All drawers with self drawer
lockable utensils compartment with self-drawer
material
Spanplatten: verschiedene Dicken mit Melaminharz-Dekor-Beschichtung.
MDF-Platten: verschiedene Dicken lackiert.
Holzwerkstoffe gemäß /EN 312/ und /EN 14322/: Formaldehydklasse: E1 nach Prüfungsmethode EN 120 gewährleistet bei normaer, dem Verwendungszweck entsprechender Nutzung nach heutigem Kenntnisstand keine gesundheitlichen Schäden und beeinträchtigungen.
Dekoroberfläche: getestet auf Abriebfestigkeit, Fleckenunempfindlichkeit, Kratzbeanspruchung, Stoßbeanspruchung und Zigarettenglut gemäß 14322.
Massivholzplatten: aus Birke, Buche, Eiche oder Nussbaum lackiert oder geölt, getestet nach DIN EN 13353 und DIN EN 13017-2.
FSC Zertifizierung: Massivholz als natürlicher Rohstoff aus nachhaltiger Forstwirtschaft gewährleistet verantwortungsvollen Umgang mit dem Rohstoff Holz.
ABS-Kanten: thermoplastischer Werkstoff mit hervorragenden Material- und Gebrauchseigenschaften: schlagfest, mechanisch und thermisch hoch belastbar.
Farbpigment- und Decklacksysteme: UV-härtende Lacke auf Wasserbasis und daher besonders umweltfreundlich, geprüft und zertifiziert nach RAL UZ 38.
assembly Instructions
Montageanleitung Container Cubic: