moll S9 Design swivel chair
encouraged to move – moll S9 the smart, thinking swivel chair
The moll S9 doesn't just bring all the strengths of a swivel chair to the home. It is an invitation to move — an encouragement to rethink sitting. The moll S9 brings an end to all conventions. It is the chair for every body size and any seating idea. It allows more than just ideal adjustment to people. Thanks to its compact shape, it offers endless seating options. Whether from the front, left back or side, the moll S9 expands the horizon, and its movable seating surface keeps the body moving. Discover the new freedom of sitting.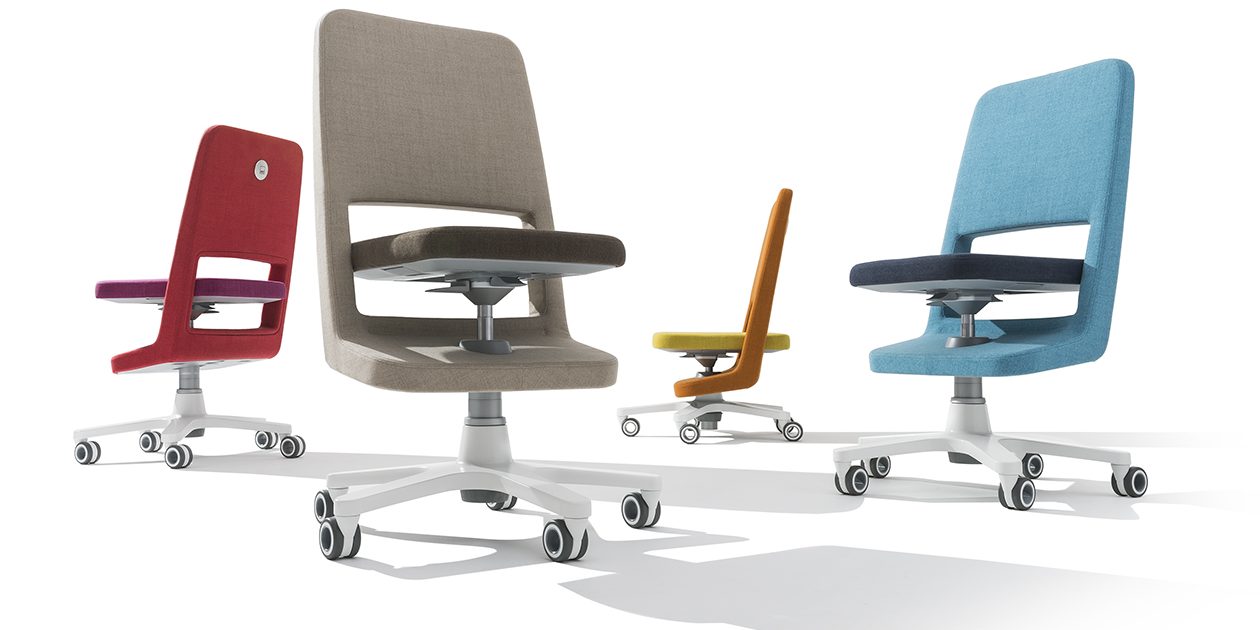 From very small to very tall
The moll S9 works with anybody's body – whether child or adult, young woman or tall man. The design swivel chair moll S9 has a size adjustment range that makes it the ideal seating solution for any body size. This is made possible by stepless adjustment  of the seating height and depth, each in two high or low ranges. This makes the moll S9 a chair that is just as suitable for children as for adults. And by the way: Along with size adjustment, the moll S9 automatically adjusts to the user's weight.
⯆ Two basic positions - small and large
With a hand wheel – easy to solve  – that fix the swivle column to the star base, the basic height of the seat element can be changed by 10 cm in height.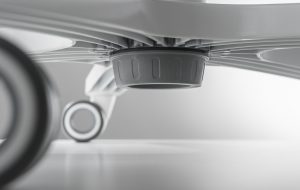 ⯆ Seat height adjustment
The seating height adjustment is made steplessly in two stages. This makes the moll S9 suitable for body sizes from  100 cm to 200 cm. The seat height is from 34 cm to 45 cm in the lower, or 46 cm to 57 cm in the upper seat element position adjustably.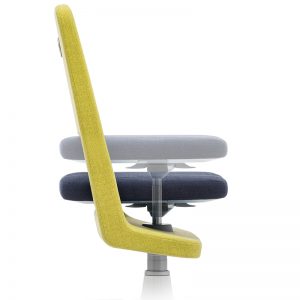 Control lever for seat height adjustment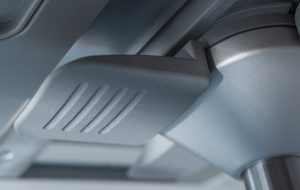 ⯆ Seat depth adjustment
The seating depth can be adjusted using a lever below the seating surface. The seating surface's rotation option adjusts in a range from 32 cm to 45 cm.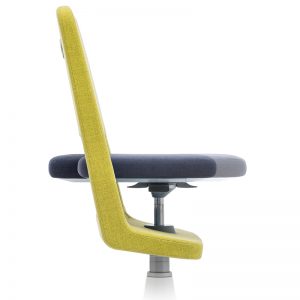 Control button under the seat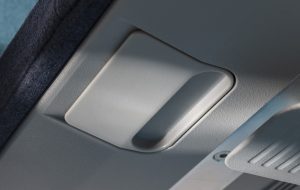 Healthy sitting requires movement
Human beings are not made for static sitting. Hardly anything stresses the body more than static forced postures. The moll S9, therefore, is not just a chair — it is a constant invitation to move and change postures.
Ordinary chairs compel static seating and forced posture. But our muscular system needs movement. The intelligent technology allows and encourages forward, backward and sideways movement and transmits even the smallest weight shifts into movement. The synchronous movement concept allows pelvic rotation to stabilize the spinal column. This type of dynamic sitting stimulates the muscular system and metabolism, and virtually prevents backaches.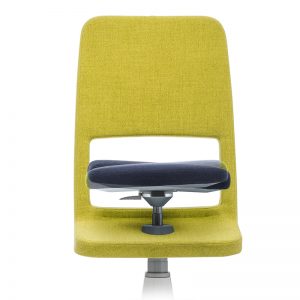 The lateral rocking function keeps the pelvis in motion and effectively prevents static sitting. The lateral seating tilt reaches maximum approx. 5 degrees in both directions. Depending on the position of the seat (forward or back), the movability has different strength, so it adapts to the weight of various sizes of people.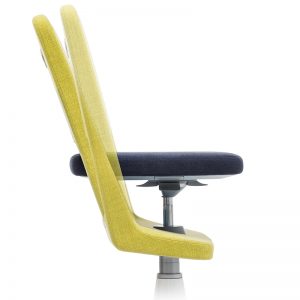 The rocking backrest follows the body, invites the user to lean, and provides stability. The S9 even stimulates sideways sitting. The backrest's counterpressure can be individually controlled by a quick setting with just a few turns. The settings wheel is easy to reach under the seating element.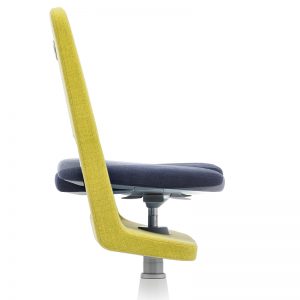 The inclination of the seat is extremely important for an optimal sitting posture at the table. The movably mounted seating surface ensures the correct seating angle — both when leaning forward and leaning back. The seat's movability is regulated automacally, depending on the position of the seat support. In this way, it steplessly adapts to the individual comfort of different sizes of people. Seating tilt from approx. 4 degrees backwards to about 7 degrees forward
The design of the moll S9 is independent and uncompromisingly valuable. The design comes from the workplace and builds a bridge into the private sphere. Depending on the design, quiet or lively. It fits into its ambience, but can also have a solitary effect. It fits into almost every living environment without losing its character. It is exciting to see how he changes rooms and creates new impressions.
The moll S9 was developed in cooperation with Sven von Bötticher, idaid Stuttgart in the moll Design Centre.
ID AID is an interdisciplinary design studio built around its founder, Sven von Boetticher. ID AID has made it its job to create archetypical, authentic production solutions — always with a passion for quality, innovation and sustainability. With the moll S9, an impeccably modern, multiple award-winning swivel chair has come into being.
Crisp colors and  consummate comfort

In the end, whether a chair becomes your favorite place to be depends on how good it makes you feel. The moll S9 is comfortably upholstered all around. Its upholstery is easy to clean and care for, and it comes in eight lively colors that can be mixed and matched at will. From discreet beige and dark brown to light or dark blue, all the way to powerful colors like lemon, orange and pink. The chair can be designed in monochrome or with contrasting or restrained accent colors. This means the moll S9 gives any room a fresh accent.
moll S9 – easy to assemble
moll S9 – correctly adjusted
Smart and safe in every detail
the moll S9 inspires from any angle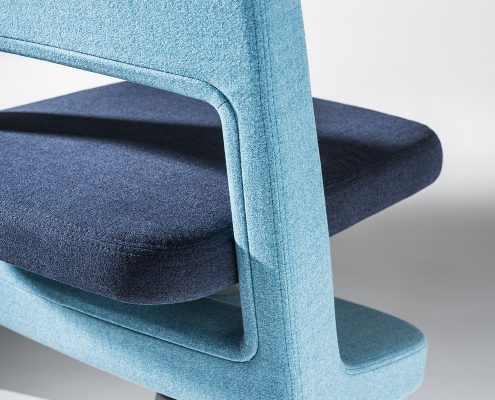 Quality in every detail
Craftsmanship meets ergonomics: the moll S9's perfect seams and multiple-zone seat cushion upholstery. High quality design made in Germany.
Star base and design castors
The braked double castors are as safe  as they are stylish. They are load-dependent  braking and suitable for hard and soft floor coverings. The polyurethane coating on the running surface make them very durable.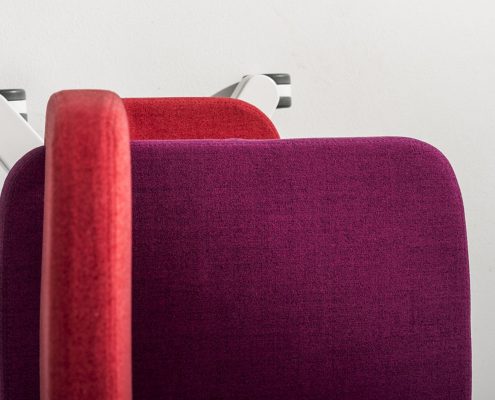 Multizone seat cushion
The multizone seat cushion consists of areas with different degrees of hardness. Depending on the posiControls on the moll S9

Elegant, intuitive, safe and simple to operate.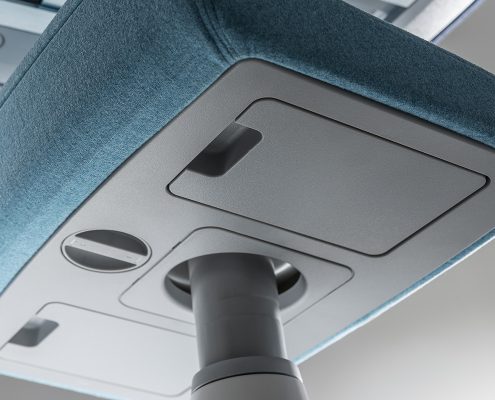 Space efficiency
In the compartment under the seat, a user manual, assembly wrench and other small items have a safe home.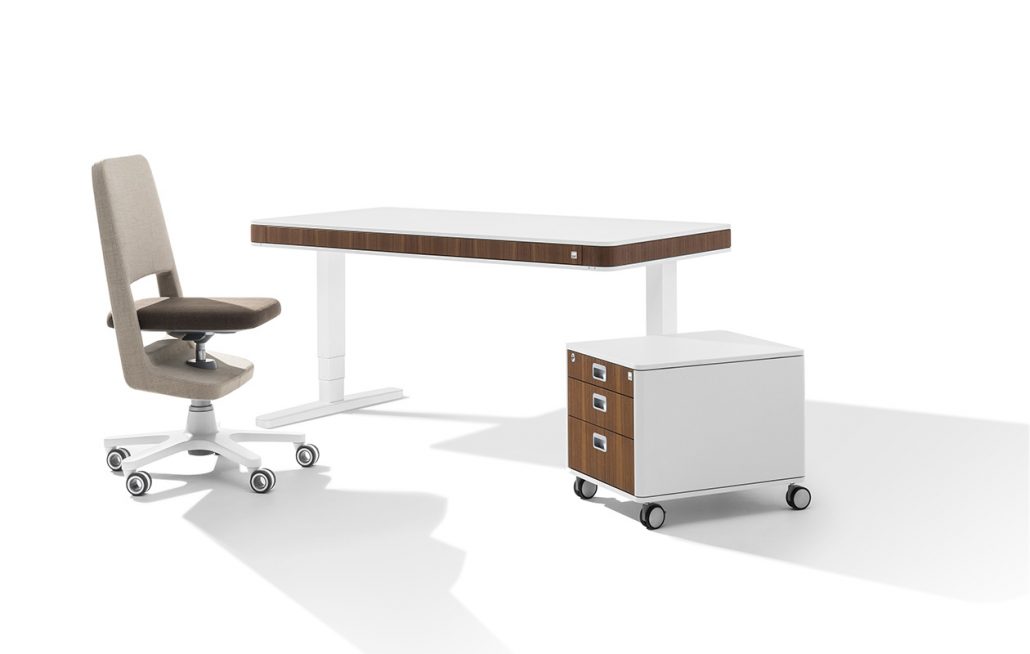 Produktdetails moll S9 Design Drehstuhl
S9
Design swivel chair with five-armed base
Dimensions:
Width 65 cm
Depth 65 cm
Height 37-57 cm
Weight 22,9 kg
Adjustability:
Seat height adjustment
Seat depth adjustment
Backrest adjustment
Characteristics:
Loadable up to 100 kg
five-armed foot
design rollers
Frame color white
Rear element and seating element monochron or two-color selectable in 8 variants
Body size 110-200 cm
material characteristics
Designer cushion:
Polyester fiber, flat weave with yarn groups woven at right angles to each other.
Fabric characteristics:
premium woolen look
lush, warm feel
moisture repellent
strong fabric for intensive use
Specifications:
100 % flame-resistant polyester
Pigments contain no heavy metals
Textiles tested for hazardous materials according to Öko-Tex® Standard 100
Weight: 350 g/m²
Abrasion resistance: 72,000 Martindale cycles according to EN ISO 12947 1 & 2
Pilling class 4 according to EN ISO 12945-2
Flame retardant according to BS 5852 cigarette ash test
Light fastness: >5 according to ISO B02
Friction resistance: when wet: 5, when dry: 5 according to EN ISO 105 X12
Cushion filing: foam
Cleaning:
Vacuum regularly. When dirty, wipe with a damp cloth or machine wash with mild detergent at 40 °C on Gentle. Please follow the care instructions on the label.