moll C7 mobile container
the mobile container that offers space for any life situation
moll unique provides a total work environment. This means not only ergonomics, comfort and sophisticated design, but also organization of the workplace. The moll C7 rolling drawer unit is not just an outstanding storage space extension. It fits visually in any room and is the perfect complement to the moll T7 desk and unique series chairs. This forms a whole made up of perfectly conceived, matching elements that enhance any work, home or living situation.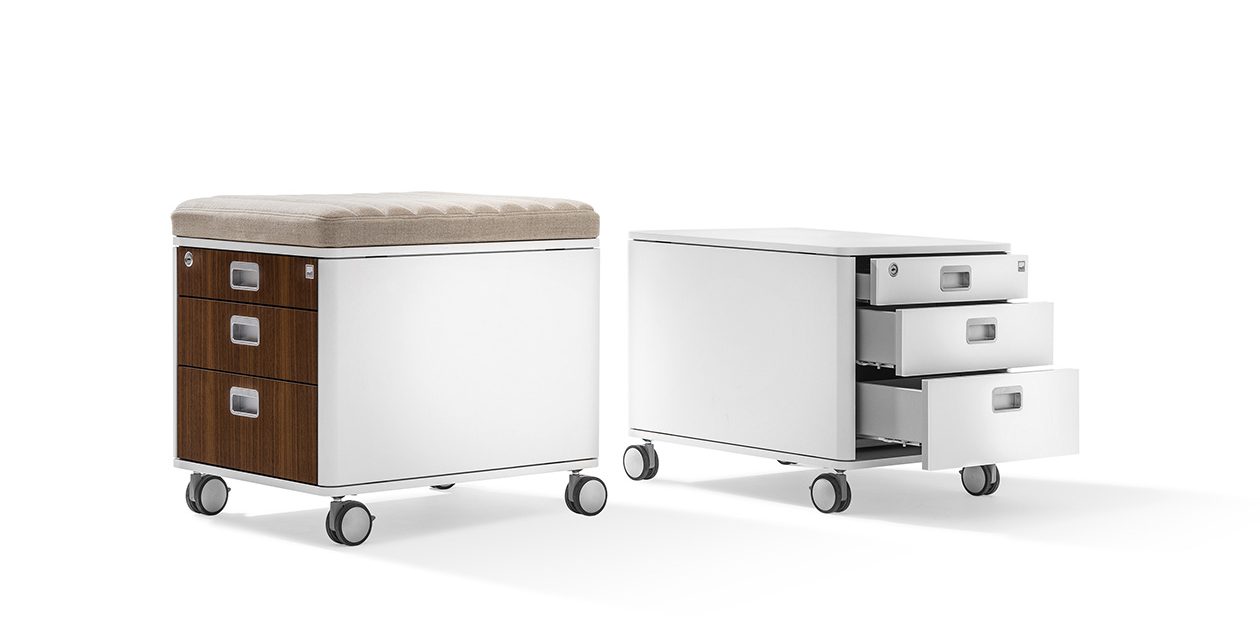 Stylish overall concept with universal design
Desk and chair combine with the moll C7 container to create a complete stylish concept. Its front panels are matched to the moll T7 desk, and the optional seat cushion goes with the upholstery covers on the moll S6 and the  moll S9 chair. The user receives a brand concept with lifelong use. Sustainability guaranteed thanks to Made in Germany.
With the optional pad, the mobile container moll C7 becomes an "emergency seat" when unexpected visitors arrive.
In two large drawers and one lockable drawer, it offers sufficient stowage space for everything that is not always in view, but should be quickly accessible.
Two castors with breaks ensure a secure stand.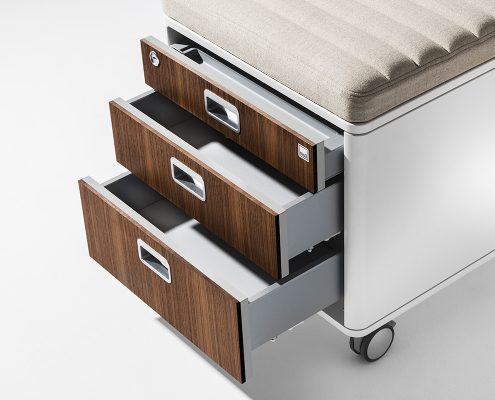 Drawers
Two drawers provide storage space for a tray that holds paper formats up to A3. The front sides faces of the drawers match the moll T7 and are equipped with a buffered self- closing mechanism.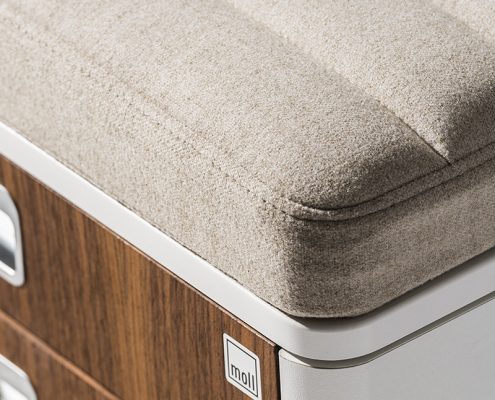 Pad
The pad turns the moll C7 into a stool. Various premium fabrics are available  for the upholstery. Two lockable castors provide secure positioning.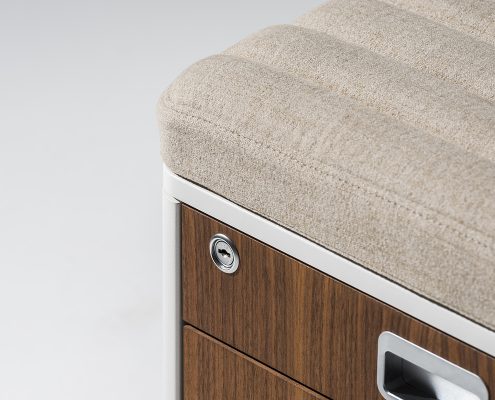 Lockable utensil compartment.
Valuables and confidential documents find   a secure place in the lockable utensil compartment.
Container
Design-matched mobile container suitable for moll T7 and moll T7 XL
Dimensions:
Width 43 cm
Depth 54 cm
Height 42 cm
Weight 25,6 kg
Maximum load up to 75 kg
Special features:
Fronts in six interchangeable colour/decor panels
Container with two drawers, lockable utensil compartment, all with self-closing mechanism
Optional pad turns the container into a comfortable seat
Materials
Characteristics and properties:
Chipboards with melamine resin coating
MDF boards in various thicknesses with melamine resin coating
Oiled real wood surfaces, made of multi-layer moulded plywood of the wood type with an upright veneer direction of the top layer
Coloured panels made of multi-layered beech shaped plywood with priming foil
Surface covers UV-curing acrylic lacquer system – coloured lacquered
Wood-based materials according to /EN 312/ and/or 14322/E1 Class
Formaldehyde class:
moll wood materials are CARB II compliant with stricter limit values than E1 according to test method EN 120 – based on current knowledge, ensures that normal, appropriate use will cause no harm or health damage.
ABS edges:
Thermoplastic material with excellent material and utility properties: impact resistant, highly resistant to mechanical and thermal stress.
Decorative surfaces:
tested for abrasion resistance, resistance to staining, scratch resistance, shock resistance and cigarette burn according to EN 14322.
FSC certification:
Solid wood as a natural raw material from sustainable forestry ensures responsible use of wood as a raw material.