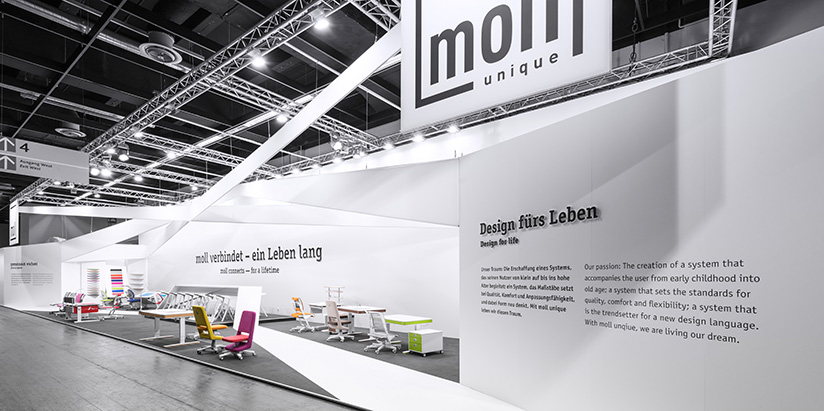 Successful imm cologne 2016
The week at imm cologne ended two weeks ago with excellent results for moll. Visitors from more than 100 countries came to Cologne. They included professional visitors from domestic and international trade, as well as many end consumers.

Our neighbors included top brands like Vitra and Rolf Benz.
Many aspects of the trade show reflected that. Self-expression is always in style, and so is sharing possessions and places. No wonder open living concepts are getting more popular. Sofa corners are no longer just zones for kids and toys, and it's getting rarer for guests and kids to wait in separate rooms for meals to come from the kitchen. It is getting more common for a central living space to serve as what was once a separate dining room, kitchen, workroom and playroom.
After the fair was over, our boss Martin Moll was more than pleased. "We wanted to build on our successful appearance last year and have more than succeeded. The new trends in interiors pose special challenges when developing furniture. On the one hand, it has to work in conventional spaces, but it also has to deal with the new openness. The openness takes place on two levels: People are becoming more open — to share and to exchange — and they live in more openly designed spaces where there are fewer separation walls, but a convertible division into areas and zones. Our new design series moll unique especially shows how flexible furniture can be created without losing sight of ergonomic precision. It speaks a design language that is independent of age, and fit into various living situations. And most of all, it can be changed."
Combined with moll's typical advantage of durability, in Cologne the design series amply demonstrated moll's slogan "Design for Life". moll unique products are for children, because they can grow with them. They are for grownups, because they can also work at them, sitting or standing. moll unique products are for anyone who likes them — for a lifetime. Through their design, functionality and quality, they deliver on their promises: Ergonomic excellence paired with minimalistic design that doesn't suits any living space. The concept is designed for lifelong use and true sustainability. Thanks to its timeless design, variable dimensions and interchangeable elements, the furniture outlasts the user's changing preferences, while its functional components always keep it ergonomic.
With Champion, Winner and Joker, the whole range of furniture for children and teens was formidably represented. At the trade show, we showed the full breadth of what the moll brand stands for.