moll is the future: Environment und sustainability
moll manufactures amidst the breathtaking nature of the Swabian Alps. This nearness to nature inspires the responsibility to protect this environment. "For the survival of humanity, the topic of sustainability is just as meaningful as the Industrial Revolution was in the last century, or as the ideas of the Enlightenment once were," says CEO Martin Moll. "As a family company, with our closeness to and responsibility for our employees, we must take this issue especially to heart." Therefore moll, as a third-generation family-owned company, commits itself to sustainability with the challenge: "Future-oriented business therefore means: We must leave an intact ecological, social and economic structure to our children and grandchildren. You can't have one without the other."

moll's intention is to prevent as much as possible any negative environmental effects that are caused by its business activities. The applicable environmental laws and regulations are followed in their entirety. moll products are an interplay of ecology, economics and ergonomics. We don't want to reduce the utility of our products due to our conduct in production. We are convinced that a product can only be really good if it is also created in a good way. This starts with the packaging: The paper and corrugated cardboard layers used consist of at least 80% recycled material and are 100% recyclable.
Quality and design are the guarantors of our sustainability. Only the best materials and the greatest care in production
ensure the lasting quality of our furniture. The concept is designed for lifelong use and true sustainability. Made in Germany, the furniture uses premium materials that ensure durability. Thanks to its timeless design, variable dimensions and interchangeable elements, the furniture outlasts the user's changing preferences, while its functional components always keep it ergonomic. We manufacture exclusively in Germany. This ensures quality, jobs and adherence to social and ecological standards.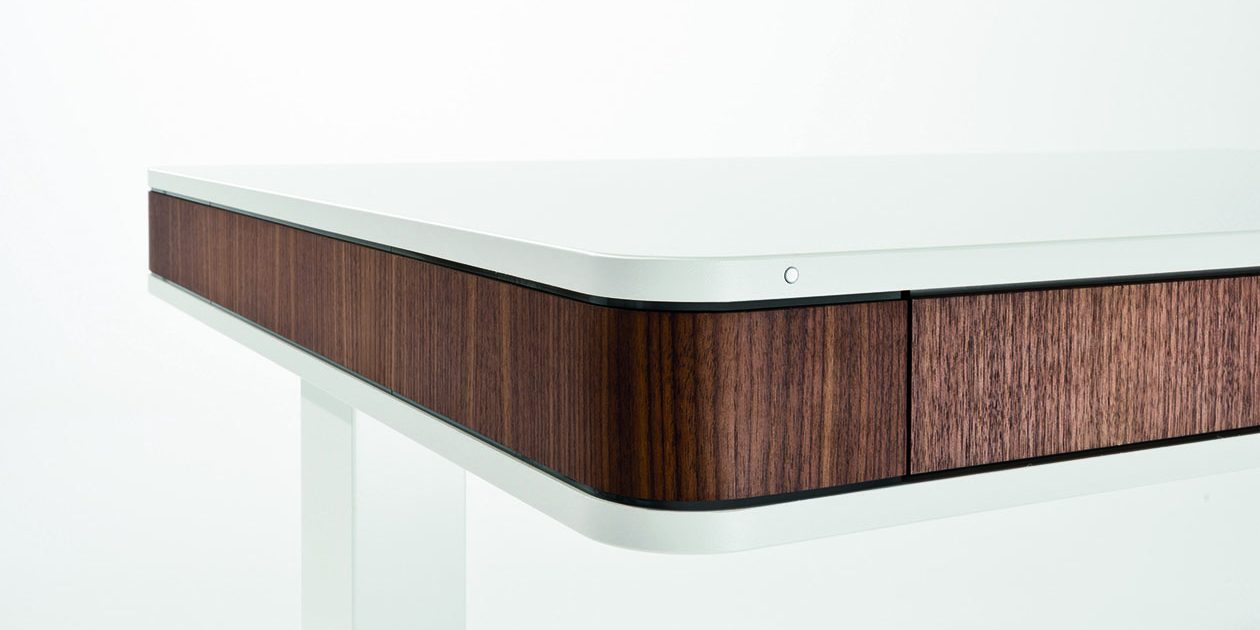 To protect our environment for coming generations, moll uses raw materials sustainably and efficiently. We are convinced that everyone can make a small contribution to environmental protection. We therefore acquire our raw materials from local producers and look for the appropriate seal of approval when purchasing. In this way, we can ensure that the materials are recyclable after use and can be used again.
Our production uses a wide variety of paints and varnishes, such as acrylic, powder and UV coatings. But they all have
one thing in common. They are environmentally friendly, economical and recyclable.
We use raw materials with high energy costs only sparingly as accents to keep our CO₂ footprint as small as possible. We therefore use such materials mainly in visible locations. +learn more
Our sustainable conduct is also verified by several independent external institutes. moll products are certified with the Blue Angel, the FSC seal and the GS symbol. Certifications that reassure our customers in their decision.
moll furniture for life
Many moll furniture buyers replace their other furniture often. However, moll furniture is generally used for an extremely long time — and often passed on from generation to generation. What could be more sustainable? Even second-hand, moll furniture commands top prices, because it's almost indestructible. If a component is ever damaged, you can still get replacement parts, thanks to our long replacement warranty. Then, when it's time for new furniture, it should be from moll.
And by the way: Did you know that the main material moll processes is wood? And wood is actually the origin of sustainability consciousness. In the 18th century, wood was a coveted raw material, both for construction and for heating homes. In the German province of Saxony, around the industrial towns, high demand for wood in mine building and operation of smelting furnaces deforested entire landscapes. Due to this outrage, chief mining administrator Hans Carl von Carlowitz recommended in his 1713 book "The Economy of Forests" that only as many trees be cut down as could be grown. The idea of sustainability was born.