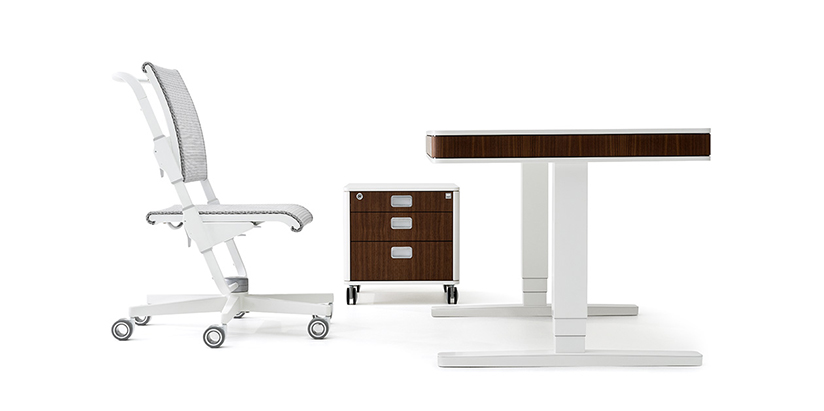 moll unique — it's design for life, sustainability, ergonomics, variability and clear structure.
The moll unique design series combines ergonomic perfection with extraordinary design. The product line includes the S6 chair, the T7 desk and the C7 container. It is designed to meet the needs of every age — from small children to full-grown adults.
The T7 was nominated for the renowned German Design Award 2016 before even coming to market. With its minimalist design, it integrates into any sophisticated living environment. Variable use of color elements and premium genuine wood decor allows individual design according to personal taste. With the touch of a button, the T7's electro-motor height adjustment allows ergonomic adjustment to any body size — from seated toddler to standing adult.
With premium, high-quality functional furniture, moll has set the benchmark in the past with desks that grow with the child. With moll unique, a brand has now been created that catches the eye with innovative design. The original look is unique on the market.
Like the T7, its partner the S6 can also adapt to all body proportions. Thanks to its patented functional components, the seating height, seating depth and backrest can be adjusted separately. The chair's design is innovative: Instead of a traditional central column, moll attaches an inclined frame to a six-armed star base and fastens the functional components for the seat and backrest to it. The S6 also has variable colors, like the T7. The cushions for the seat and backrest come in seven different colors.
The moll unique design series concept is one of lifelong utility and focuses on sustainability. Thanks to its timeless design, variable dimensions and interchangeable elements, the furniture outlasts the user's changing preferences, while its functional components always keep it ergonomic.