The school bag for school enrollment

Parents with children who now go to school have very special questions about getting started. The most important thing a first grader needs is a suitable school bag. Many questions remain unanswered at first:
What kind of school bag does the child need?
Which one is better: a school backpack or a satchel?
What factors are to be considered when buying a school bag?
Until school enrolment, all these and many other questions, for example, regarding the children's desk and chair, the right equipment for working materials or the gifts from relatives and friends for the festive day should be answered.
Which factors have to be considered when buying a school bag?
When buying a school bag, parents should consider the most important requirements that the product should meet. These requirements include:
a good load distribution
a flexibly adjustable back length
a shape that adapts to the spine
good visibility in road traffic thanks to high-quality reflectors and reflective surface
In addition to these requirements, other factors also play a role in the purchase of a school bag. These are popular motifs such as cars, dinosaurs and fairies that are suitable for children of school age. However, these motives become rather uninteresting in teenage years and should not be the top purchase criterion. A plain coloured school bag with additional motifs that can be removed is a good alternative.
In addition, school satchels should always be water-repellent and have orange or yellow fluorescent signal surfaces in addition to reflectors, which also light up during the day independently of the headlights from cars and thus reduce the risk of accidents.
If the school bag is to serve as a gift for the child, daughter or son should always be present when purchasing it. In order to find the optimal school bag for the child, it is absolutely necessary that the school bag is tested before buying it. The school bag can be individually adjusted in size and tested while filled with items (books and notebooks).
How heavy should a school bag be?
In addition to the most important functions of a school bag, parents and first graders also have to consider the weight of the school bag. The child should be able to carry it from home to school every day without suffering injuries. An ergonomic school bag can relieve the back.
For this purpose, the empty weight of the school bag must not exceed 1,300 g with an interior volume of at least approx. 15 l. The shoulder straps should be well padded, ergonomically shaped and at least 4 cm wide. Attention should be paid to non-slippery material and a good quality (seam-free). The school bag should be carried on the back with a maximum additional weight of 15% of the body weight.
The correct way of carrying the school bag and the correct fit is also of enormous importance. A matching shaped back section with air-permeable padding should be provided on the backrest to prevent possible back tension.
To avoid uncomfortable school bags, it should be taken into account when packing that heavy books belong directly on the back wall of the school bag and that lighter items find their place in the front of the backpack. For first graders it is very helpful to practice packing the school bag with their parents beforehand.
On their website the AGR – Aktion Gesunder Rücken (Healthy Back) has also compiled detailed information about school bags and school backpacks, which are suitable for the back. There, parents will also find an overview of school satchels that have been awarded the AGR seal of approval.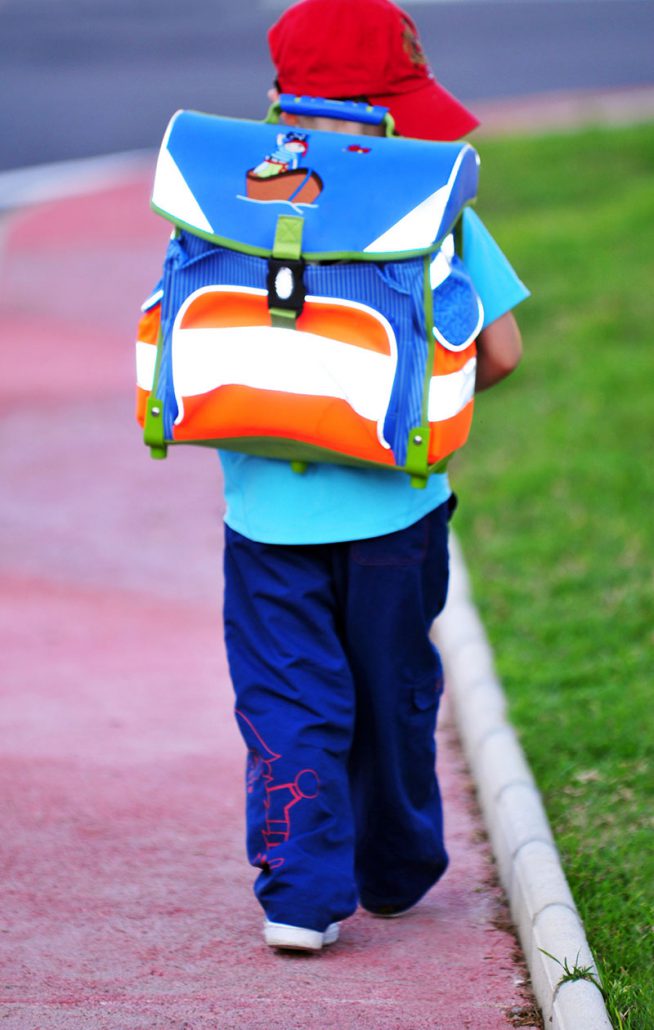 Which one is better: a school backpack or a school satchel?
School satchels are the most common and best-selling version of school bags. Due to its ergonomic shape and the adjustment possibilities in the back area as well as its practical subdivisions, it is the ideal design for first graders.
School backpacks, on the other hand, are much more flexible in terms of material, usually offer one or two compartments and are slightly lighter in weight. In both versions, quality and price are similar in the medium to higher price segment. It is therefore worth taking a closer look at the advantages and disadvantages of a school satchel.
What are the advantages of the school satchel for a first grader?
The basic idea of a school bag is the transport of books, exercise books and school accessories on the way to school. The bag protects the contents from rain, snow and dirt.
Clarity in the school bag and weight distribution are of great importance for primary school students. Nowadays, it is no longer the classic, box-shaped school satchels, that are produced, but ergonomic school bags that are primarily intended to prevent postural damage.
What does the correct weight distribution look like?
Ergonomic school bags guarantee optimal weight distribution. They are particularly important for first graders with a narrow back or small children.
School satchels, for example, can be purchased with chest straps if they are not included in the scope of delivery. Optimum weight distribution on the back is ensured if the shoulder straps are wide enough (at least four centimetres). The school bag should not tip over – empty or full – and the carrying handle should be ergonomically shaped and padded.
Are there special school bags for girls?
The favorite colours of most girls are rose or pink. School bags for girls are therefore often offered in all shades of pink. Almost all manufacturers of school bags have a corresponding assortment in their program, which especially appeals to girls and inspires with pretty motifs. Among the most popular motifs for girls' school bags are flowers, princess figures, animals and mythical creatures such as unicorns, fairies or even simple motifs such as hearts.
Robust and non-toxic schoolbags for children
Robust fabrication is important and is regularly checked by independent testers. An equally important point is the toxin load of schoolbags for girls and boys. Consumer magazines such as Öko-Test examine school bags at regular intervals and have been able to report encouraging news in recent years: Hardly any manufacturer still uses controversial substances such as phthalate plasticizers or polycyclic aromatic hydrocarbons (PAHs) for their school bags.
When buying school bags, parents should be aware of the most important requirements in advance, inform themselves about school satchels in independent tests or in in specialist shops and not just follow the child's design wishes.
Learn more tips on school enrolment from our guide for first graders …..
…. with tips for the time before school enrolment
Learn more tips on school enrolment from our guide for first graders …..
…. with tips for the time after the 1st day of school